13 + 1 P's of Effective Marketing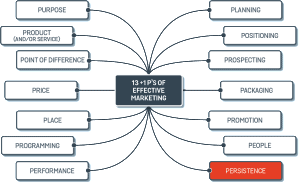 Effective marketing has little to do with placing an ad in the local newspaper or industry magazine and then hoping that someone will see it and do business with you. It has everything to do with knowing exactly who your 'choice-rich, time-poor' customers are, where they come from, what they want, what price they will pay, and what it takes for them to keep doing business with you, verses the countless options they have available in today's crowded marketplace.
Marketing 101 traditionally cites 4 P's; Product, Place, Price and Promotion. This half-day hands-on reality-based workshop covers another ten to incorporate into your business practices.
1. Purpose
Why are we in business? What is our core purpose? What business are we in? What are the end result benefits our customers receive from us? What value does our products and services we add to their lives?
2. Planning
"If you fail to plan…you plan to fail." Just as any good business has a well thought out business plan, it is essential to have in place an equally well-constructed Marketing Plan.
3. Product (and/or service)
What is your primary product? What primary service to you provide? What are the features and benefits of your product and/or service offering?
4. Positioning
Where in the market place do you wish to play; at the commodity bottom-end focusing on cost and lowest prices, or the multi-sensory experience top-end giving laser-like attention to quality, service and value? Who is your target market? Who will buy from you?
5. Point of difference
How does your product or service differ from your competition? What is your niche, your area of expertise? What makes you unique? What are you famous for?
6. Propsecting
Developing an effective lead generation system. What prospecting method(s) are best for your business? Identifying opportunities that best match your core competencies
7. Price
What are your products and services worth? How much are your customers prepared to pay? Remember that the number one myth in business today is that customers won't pay for quality service.
8. Packaging
How will you package you product or service? Physical packaging, choice of colours, availability of sizes, model options, optional extras, as well as intangible warranties and guarantees, delivery options, payment plans, and access to product or service information.
9. Place
Where is the best place to operate from? How can customers most easily avail themselves of your product and services? CBD or suburbia? Retail? Wholesale? Online? Franchise? Single or multiple branches? Local, national, international?
10. Promotion
How does the marketplace know you exist? What is the best medium to tell people who you are and what you do? Press, radio, television advertising, brochures, published articles, newsletters, networking events, seminars, product showcases, websites, blogs, or social media?
11. Programming
What is the time-line of events that your marketing plan has determined?
12. People
Who is on your team? Who will assist you? Reality says you cannot do business on your own. Recruit the very best talent you can find. Seek out the best external advisors; accountants, lawyers, IT experts, Webmaster, and business coach.
13. Performance
"If you can't measure it, you can't manage it." Assigning Key Performance Indicators (KPI's) to each P to enable accurate assessment of business results on a monthly basis and further analysed in greater depth at every 90-day future-storming session.
14. The Final P – Persistence
The final P is the glue that holds it all together. Every business has its ups and downs. Every market behaves in unpredictable ways. The key is to persist, to hang in there, staying focused on what it is you do best.