Professional Selling Skills…
… because nothing happens until somebody sells something!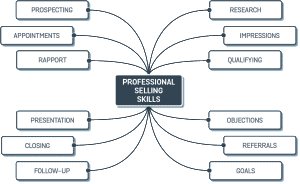 In days gone bye, it was possible to survive in business by implementing a 'best product' or 'best price' marketing strategy. No longer is this the case.
In today's highly disruptive marketplace, a quality product or service is simply the price of market entry. What then is the key to success in today's highly competitive marketplace? What is it that businesses and organisations need to be doing to attract and retain happy customers and healthy profits?
This half-day professional development workshop addresses the following issues: 
Prospecting and lead generation

Development of systems to capture leads
Creating a company-wide prospecting awareness and attitude
Identification of opportunities that match company core competencies

Preparing for the sale

Identification of decision makers within prospect organisations
Company research and data collection
Use of pre-approach letters and information kits

Obtaining the appointment

Making contact with key decisions makers
Understanding the relative power of different communication mediums
Key questions that increase the granting of an appointment

Punctuality and appearance

You are the message
Understanding the power of a first impression
Valuing your prospects most valuable asset: Time

Establishing rapport

Developing trust and credibility as quickly as possible
Pacing and mirroring
Determining you and your clients preferred communication style

Identifying needs and wants

The art of active listening
The benefit of different types of questions
Identifying real vs. perceived needs

Presentation of the product and/or service

Aligning features, benefits and value of your product or service
Assisting in identification of reasons to justify purchase
Focusing on solutions to their problem

Handling objections

Understanding what an objection really is
How to handle objections before they occur
Finding the real objection behind the smokescreen

Asking for the order, finaiising the sale

Getting a commitment to proceed
Various questions that lead to a yes
Why the client may want you to make the decision for them

Obtaining referrals

The best business is word of mouth
The power of testimonials
How to develop a continuing flow of referrals

Commitment to future service

Determining future expectations
Keeping in touch
Customers for life

Why sales and service is a team event

Defining and agreeing on 'rules of the game'
The importance of excellent internal customer relationships
Creating a culture of customer service excellence

Sales goals & activity plans

The importance of clearly defined written goals
Step by step planning of sales activities
Recording, monitoring & analysing sales results