Effective Time, Task & Self Management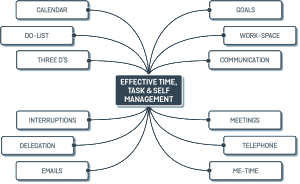 'Shortage of time is the greatest shortage of our time.'
Fred Polak.
If getting more done in less time with less stress is what you and your staff are looking for, then this powerful half-day professional development
programme is for you.
The take-home value for participants includes:
Effective use of a diary or time planning system.
With a plethora of manual & computer based products on the market, what are the questions to ask when choosing the system that's right for you?
The importance of personal and organizational goals.
Finding out why the how is of little relevance if the where and the why have not been clearly defined.
Formulating a daily 'do-list' and prioritizing tasks.
Confucius say 'short pencil better than long memory'. Getting desired actions recorded is a vital step in the efficiency process.
Setting up efficient work areas.
A simple change in the location of your desk can help you find additional hours in every day.
The three D's of handling paper-flow.
Computers were meant to reduce paper flow. It seems no-one told the computers.
Effective intra-office communication.
As business teams grow arithmetically, relationships grow exponentially. Efficient internal communication systems are essential to managing the growth.
Dealing with interruptions.
Unexpected visitors and phone-calls can rob your time and ruin your day. Taking back control is vital to retaining your sanity.
Running productive and time efficient meetings.
Meetings can be one of the most productive uses of your time. Unfortunately, without discipline, they can also be the least productive.
The art of delegation – empowering others.
'Nobody can do everything, that's why we have others'
. Mastery of delegation is what creates time for the other eleven areas of your life.
The telephone – blessing or curse?
We would be lost would out them, but we need to be in control. Implementing some simple well proven strategies can achieve this end.
Managing email traffic.
Most businesses are in email and information overload. Managing the overwhelm is essential to maximising personal and organisational productivity and
performance
Dealing with emergencies – putting out fires.
Life without the unexpected would be pretty colourless and boring, however creating order out of the chaos is what generates opportunity.
Learning to say NO!
At the end of the day, who do you want to be in control? 'Tail wagging dog' has never been a particularly successful growth strategy.
Maximising the 168 hours we are given each week is fundamental to both personal and business success. This hands-on practical half-day workshop will
provide you and your team with the necessary skills and strategies to achieve more out of every day.